Offline activation
In some cases it is necessary to activate Kadeck Desktop via offline activation. This makes sense if the computer on which Kadeck Desktop is installed has no internet access or a firewall blocks a connection to our license server.
To activate Kadeck Desktop using offline activation, click the 'Unlock all features' button on the top right of the application as shown below:

Click on "Offline license activation" on the bottom to start the offline activation process.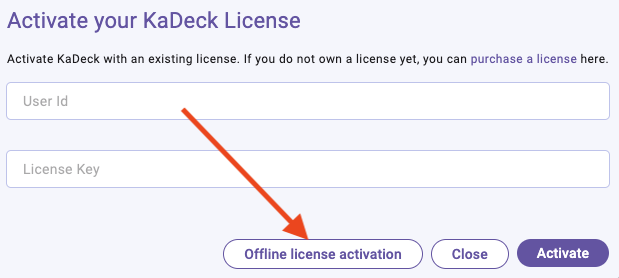 Enter the user Iid and license key you received when you purchased the license and click "Next" as shown below: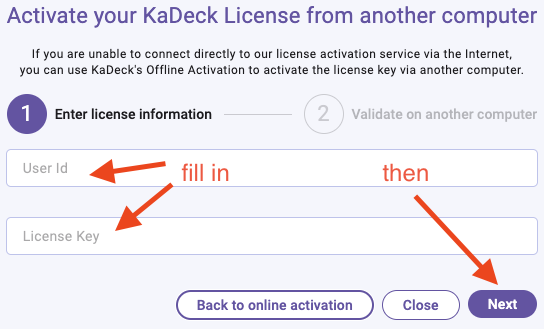 Kadeck uses a challenge-response mechanism to activate the licenses in an offline environment.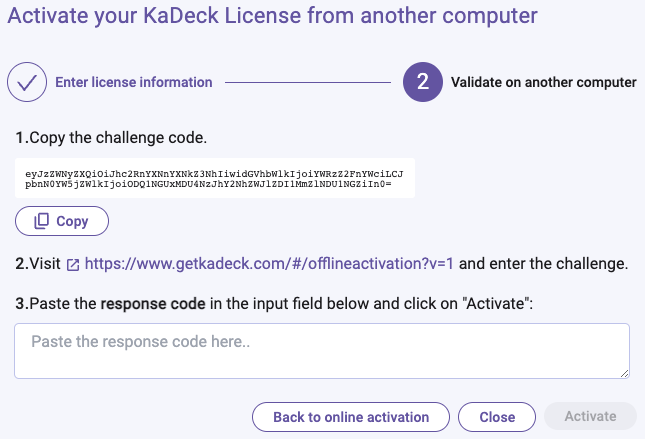 Follow the steps in the dialog:
Copy the challenge code in your clipboard.

Visit our offline activation website https://offlineactivation.xeotek.io/#/offlineactivation?v=1.

Paste the challenge code from your clipboard in the corresponding input field on the website.

Copy & paste the response code from the website in the input field of the offline activation dialog in Kadeck.

If you get an error on the offline activation website, try the this
alternative address
.
If this does not work either, try activating from another computer.